Okay, let me start this by saying that I *know* I am supposed to take a couple weeks off after running a Half Marathon. I had every intention of walking this race. Truly. I did. As.If.




It was a beautiful day at the beach, 65* and sunny, and I had 2 friends also running. My daughter came with me and we brought my pup since the race benefits an Animal Shelter.
The race was your basic out and back, but the roads didn't get closed off, and it is a highway at the Jersey Shore. This, to me, is a deal breaker and may prevent me from doing this race again next year. People were going by pretty fast and it made me very uncomfortable!

The first mile was okay, but my shin started to hurt and stretching it made me nauseous so I started to run/walk the second mile. This, of course, made me mad, so I ran the third mile. My hip was sore afterwards, remnant of the Half, but my shin stopped hurting right away.
My time, you ask? 34:25 which is three minutes slower than my best time, but three minutes faster than my average time last Fall. Yay me!
My finish line pic, courtesy of my daughter, was UNflattering, but she did take this cutie beforehand, so we will leave it with that!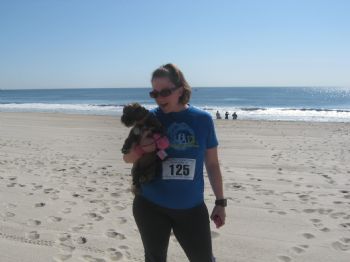 Oh, and my two friends totally beat me, as did my friend's 60+ Mom! Next week's race WILL go better! Another beach town run, but I am pretty sure the roads get closed for this one!
Oh, and after next week's ease back in to running, training sort of begins for the Philadelphia Rock'n'Roll Half in September. I will be running, but not as hard, and will really pick it up in July after vacation ends. This will be followed by training for the Disney Marathon in January 2013. I also signed up for next year's Long Branch Half, and will do the NY/NJ Challenge if they run it again, which means a Half in Queens in March 2013. Crazy crazy me!