OMG what a day!
My friend Julie came and picked me up at about 5 a.m. She was driving to the start with me, and my husband was picking me up at the finish line. It was great having her there until the start, a huge stress reliever! She went to her corral, one ahead of mine, and I went to my corral. It was SO exciting! Our wave finally started and we were off!
The race started at the Monmouth Racetrack, and wound through Long Branch to the beach. The first mile was a little crazy, people jockeying for position. There were a LOT of people there! Over 17000 between the Half, the Full, and the 2 relays. The first 5 miles were AWESOME, I was running 10:30ish miles, and really feeling amazing. There were lots of spectators cheering, plenty of water stops. Mile 7 I started feeling tired, and mile 8 was when the aches started. Left heel. Right Arch. One toe on my right foot. And the emotions. I am still tearing up.
Mile 11 was where my hubby was supposed to be. SUPPOSED to be. But he wasn't. I really really needed him to be there, where was he? Stuck in traffic? Did he miss me, and get there too late? Somewhere around mile 11.5 there he was, taking pictures!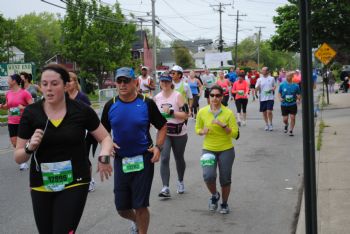 I was so thrilled! He ran the last 1.5 miles alongside, taking pics the whole way.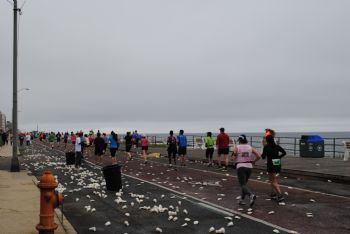 By now I am at the beach, running along the boardwalk, the ocean to my right. Beautiful, gorgeous, just-right weather!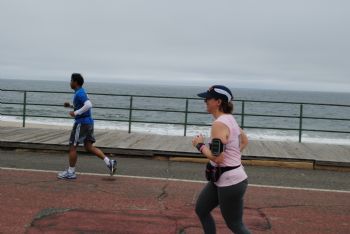 The last mile was pure hell, I won't lie. It felt so very long, and I was getting emotional, which made me gasp for air, which meant I needed my inhaler. But then all of a sudden, there it was: the finish line.
oh.my.heck.
The most beautiful sight I have ever ever seen! I crossed it and my time was around 2:35:15 which is almost 2 minutes faster than my goal!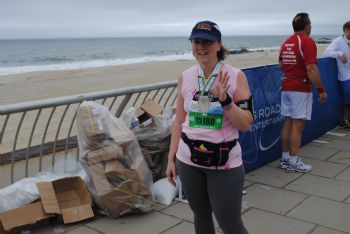 I am so glad I took the leap and decided to challenge myself, what an amazing feeling! I got to see my fundraising team mates at the finish as well, which was just the icing on the cake! Go Team Cancern Concern Center!