The excitement started yesterday when I prepped our shirts for the Color Run. Team Pride was ready to rock!
We woke up entirely too early in the morning to drive into Brooklyn. That's right, Color Run "NYC" was in Brooklyn, lol. It took about 90 minutes to get there, but we didn't hit traffic until the last 3 miles, so it was pretty painless. Well, other than the ridiculously early time, lol. My son and daughter were supposed to come too, but my son bailed at the last minute, the little stinker. Morgan and I got our bibs and sweatbands and got in line to run.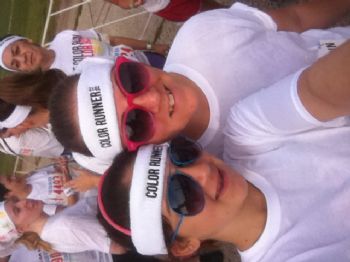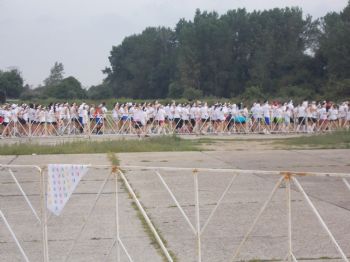 The run started and we were off! Every km they have a color station and volunteers shoot dyed corn starch at you with oversized ketchup bottles! It was CRAZY fun! It was very muggy and we started walking between stations. They also give you your own color packet, we eneded up with 3 purple and we threw it at each other just before the finish line!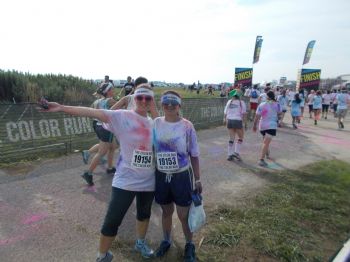 It was a lot of fun, and I can't wait for Color Run NJ! Here is the back of our shirts after the Color Run: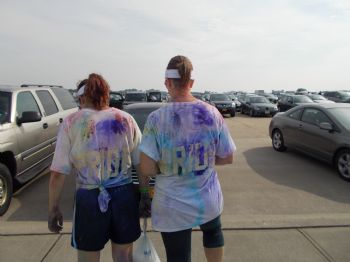 After we removed the tape that spelled out our team name: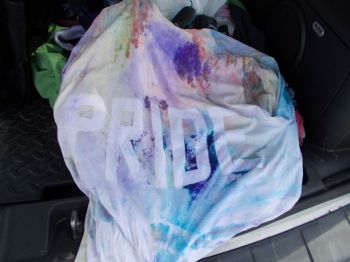 Unfortunately, most of the dye washed out and you can't see the team name anymore! I ordered medals for my kids' first 5K's, so Morgan got one and I kept Jonny's lol.