This was no ordinary 5K! My husband and I drove to the Bronx this morning, to the new Yankee Stadium. It was a pretty easy drive, and we got there with no hiccups! I got my number and got in line for my heat.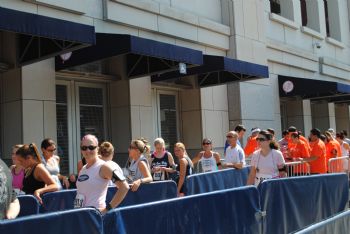 My hubby went back upstairs to wait for me to finish. The view for him? Not so bad!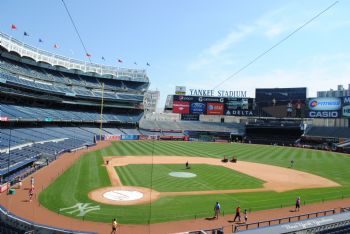 My heat started, and we did 2 laps around the concourse, and then down some ramps to the basement. These ramps had very sharp turns! One lap around the basement and onto the field we went! During my second lap, hubby took a great picture!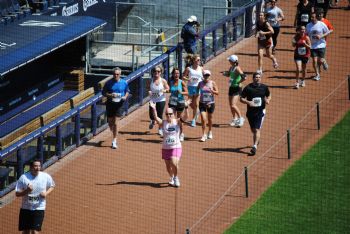 They had all kinds of opportunities for pics here, including catching a ball against the mat, but I just kept on running. I did pose for the photographers, looking forward to seeing those shots! 2 laps around the field and out we went.
Or should I say up we went? O.M.G. Easily 100 steps at this point, to get to the second highest concourse. Around that, and up 2 more flights to go around. Again. Now the easy part. Down the ramps and around and around. OMG the finish line sign....but not done yet. Off to the right, and up MORE STAIRS to get back to the almost top and do it again! 2 laps around, countless stairs and down to the finish line! I read that there were over 260 steps!

DONE! I collected my medal
and went back up to the sky box to find my hubby. Some of the ladies from his office also did the race, and we met up for one final photo op, before heading home!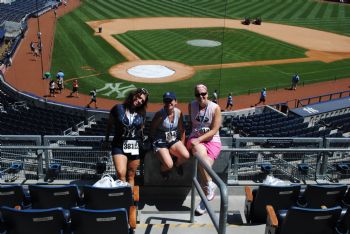 Next stop? The Color Run times 2, and my Barking Mad Virtual 10K!